FLARManager v0.4 (for FLARToolkit)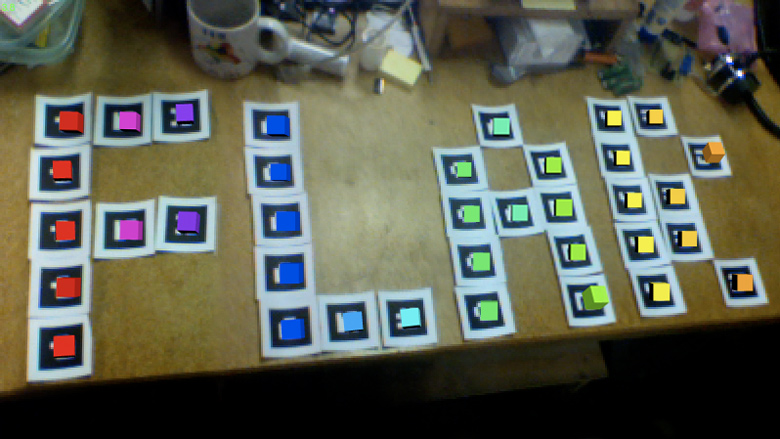 i'm pleased to announce the release of a new-and-improved version of FLARManager! this one has been a while in the works, due in part to general busy-ness, in part to my laptop threatening death, and in part to the fact that there are SO MANY NEW FEATURES.
download here:
http://words.transmote.com/wp/flarmanager/
(NOTE, this is now pointing to version 0.41, which is required for the new tutorials.)
quick description of FLARManager:
FLARManager is a small framework that makes building FLARToolkit applications easier. it also decouples the marker-tracking functionality from Papervision3D, and provides a more robust event-based system for managing marker addition, update, and removal. it supports detection and management of multiple patterns, and multiple markers of a given pattern.

here's a rundown on the most interesting new stuff:

[matrix-level smoothing]
FLARManager now applies smoothing to the matrix values reported by FLARToolkit for detected markers; this helps to clear up jitter in rotation, scaling, and position. developers can set the amount of smoothing, and easily implement their own smoothing algorithms.
[external configuration]
devs now have the option to specify many configuration settings via an xml file that does not require app recompilation. among the settable features are capture and display width/height, display mirroring, matrix smoothing, and pattern and camera param file paths.
[easier access to detected marker data]
FLARMarker instances, accessible via FLARMarkerEvents, now expose (x,y,z) location (via a Flash Player 10 Vector3D object), rotation on the x, y, and z axes, and the (x,y) coordinate of the marker's centerpoint. this opens the door to applications that use FLARToolkit to create new user interfaces and controllers, in addition to its ability to produce traditional augmented reality applications.
[documentation! (just a start...)]
i finally got around to generating ASDocs for FLARManager; this Javadoc-style documentation is similar in format to Adobe's Flex Language Reference. i still have a ways to go to make these docs more useful, but…it's a start. you can find the docs in the html_docs folder; just open index.html in a browser. i'll be putting them online in the near future.
[commercial license]
ARToolworks, the group managing the commercial license for FLARToolkit, will be offering a commercial license for FLARManager very shortly. we are just wrapping up logistics now, and i'll post more about this shortly; in the meantime, please contact me via the link at the right of the titlebar above for more information.


---
below is a full list of the changes since v0.3. it's pretty substantial; if you're thinking about upgrading a current project from v0.3 to v0.4, you should carefully review these changes before doing so, to best understand how the upgrade will affect your implementation of FLARManager.
FLARCameraSource.as
mirroring is now implemented; see FLARManager.as below for more info.
full-resolution video: video can be displayed at full capture resolution. however, when the source image is somewhat dark, FLARToolkit slows down substantially. i'm still working on this one; in the meantime, FLARManager still defaults to capture 320×240 video.
developers can now explicitly specify capture width/height and display width/height. please note that if you change display width and height and you're mirroring your display, you should ensure that your application is mirroring along the center of the display width, not just the center of your stage. otherwise, your marker results will likely be offset in the x-axis.
downsampleRatio now does just that — specifies how much to downsample the captured video before sending to FLARToolkit. it no longer has any effect on the displayed video.
resultsToDisplayRatio provides a value for scaling FLARToolkit results to fit the specified display size. this is mainly used internally within FLARManager; developers should not need to access this (but it is available via a public accessor).
FLARLoaderSource.as
the changes here follow the changes in FLARCameraSource.
full-resolution display: the loaded source can be displayed at full resolution. this works well, and unlike FLARCameraSource, does not need further iteration.
developers can now explicitly specify capture width/height and display width/height.
downsampleRatio and resultsToDisplayRatio changes; see FLARCameraSource.as above for more information.
IFLARMatrixSmoother.as
matrix smoothing can be set via an external xml config file (see External configuration file below), or via FLARManager.smoothing and FLARManager.smoother. developers can use the default smoother, FLARMatrixSmoother_Average.as, which simply averages matrices over the number of frames specified by FLARManager.smoothing, or write their own implementations of IFLARMatrixSmoother.as.
External configuration file
developers can now pass a number of configuration settings to FLARManager via FLARManager.initFromFile(). these settings include:
source width/height
display width/height
capture framerate
capture downsampleRatio
loader file path, for using FLARLoaderSource.as
display mirroring
FLARManager.updateMarkerThreshold
smoothing value
camera parameters file path
list of pattern files
pattern resolution
patternToBorderRatio
pattern minimum required confidence
initializing FLARManager via an external xml config file is now the preferred method. initialization via an IFLARSource, path to camera params file, and Vector of FLARPattern instances is now deprecated, and will be removed from the FLARManager.as constructor in the next release.
FLARMarker.as
FLARMarkerOutline functionality has been rolled into FLARMarker, and FLARMarkerOutline.as is now deprecated. there is no longer any need to access FLARMarkerEvent.marker.outline.someValue; just access FLARMarkerEvent.marker.someValue.
vector3D offers (x, y, z) coordinates of a detected marker.
rotationX, rotationY, and rotationZ provide rotation of a detected marker along each of the three axes.
sessionId provides a unique id for each detected marker in a session.
FLARMarker instances were not being properly garbage collected in the previous version of FLARManager; they are now.
FLARManager.as
initFromFile() allows developers to initialize FLARManager via an external xml config file. see External configuration file above.
mirrorDisplay allows developers to turn horizontal display mirroring on and off easily. this can also be achieved via an external config file.
markerUpdateThreshold is now exposed; this value specifies the maximum amount of motion (in the xy plane) a marker can move before it is read as a new marker. it defaults to 20px; increasing this value can help to keep fast-moving markers from flickering.
smoothing sets the number of frames over which FLARMatrixSmoother_Average averages marker matrix results. lower values result in crisper motion with more jitter; higher values result in slower, smoother updates. set to 0 to turn off smoothing completely.
smoother can accept custom smoothing algorithms, as implementations of IFLARMatrixSmoother.
miscellaneous changes
Flash 3D marker tracking is greatly improved. turns out that FLARToolkit and Flash 3D have a different z origin; FLARGeomUtils.convertFLARMatrixToFlashMatrix now adds an offset when translating matrices from FLARToolkit to Flash 3D. non-4:3 aspect ratios in Flash 3D are currently broken, however
12 new sample patterns are included in the resources/flar/patterns folder. these are 4×4 patterns, and FLARToolkit is able to distinguish them as separate patterns quite successfully.
ASDocs can be found in the html_docs folder; just open index.html in a browser. i'll be putting them online in the near future.
bugs
there are a LOT of new features here, so there are likely bugs! please help me squash them. there are a few minor bugs lurking here and there, but nothing major that i've seen (with the exception of non-4:3 aspect ratios being broken in Flash 3D). please let me know if you find anything!