FLARManager v0.7 (augmented reality in Flash)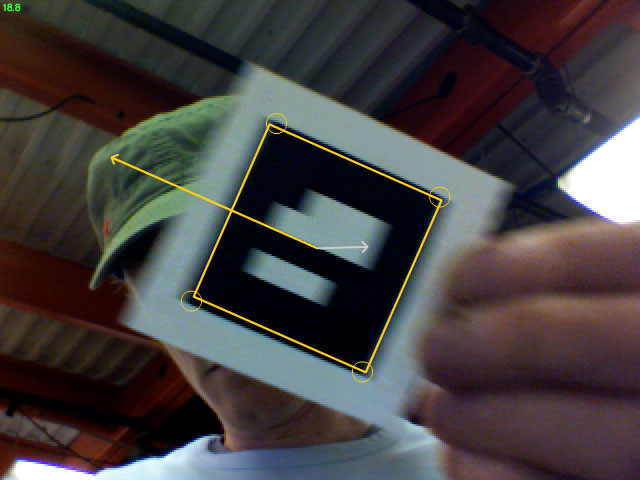 version 0.7 has been a long time coming; a lot of the changes in this update have been in SVN for months. just been too busy too wrap them up into an update.
download here:
http://words.transmote.com/wp/flarmanager/
also! you know i do it all for the love. but love don't pay the bills. please consider dropping a dime my way to help me continue working on FLARManager so i can put food in my cat's bowl.
what is this?
FLARManager is a lightweight framework that makes it easier to build FLARToolkit augmented reality applications for Flash. it is compatible with a variety of 3D engines, and provides a more robust event-based system for managing marker addition, update, and removal. it supports detection and management of multiple patterns, and multiple markers of a given pattern.
what's new this time around?
[marker motion analysis]
FLARManager now executes some simple analysis of the motion of each tracked marker. this information is used to improve tracking of fast-moving markers by extrapolating their position after they are lost by FLARToolkit, and is used to reduce model jitter by varying the amount of smoothing applied depending on marker speed. it could also be used, for example, to create simple gestural marker-based interfaces.

[FLARToolkit update and SVN restructure]
version 0.7 brings FLARManager more in line with the current state of the FLARToolkit repository, with branches for FTK 1.0.0 and FTK 2.5.1. the zipped distro for FLARManager 0.7 contains FLARToolkit 2.5.1; if you're checking out via SVN and want the latest stable build, i recommend you use the FTK 2.5.1 branch.


---
the full list of the changes since v0.61:
adaptive smoothing
the amount of smoothing applied to marker motion now varies depending on the amount of motion. slow-moving markers are smoothed more, helping to ease jitter on near-stationary markers, while faster-moving markers are smoothed less, in order to maintain responsiveness at higher speeds.
developers can manipulate adaptive smoothing by setting FLARManager.adaptiveSmoothingCenter. this can also be set via flarConfig.xml, as an attribute of the <flarManagerSettings> element. smoothing at a marker speed of FLARManager.adaptiveSmoothingCenter is equal to FLARManager.smoothing. set FLARManager.adaptiveSmoothingCenter to 0 to turn adaptive smoothing off.


marker extrapolation
with marker extrapolation, fast-moving markers that are lost by FLARToolkit due to blur can continue their motion along the same speed and direction without being reported as removed. marker extrapolation continues until the marker is picked back up by FLARToolkit, or FLARManager.markerRemovalDelay frames have expired.
FLARManager.markerExtrapolation is true by default, enabling marker extrapolation; set to false to disable. this can also be set via flarConfig.xml, as an attribute of the <flarManagerSettings> element.


marker motion data
in order to accomplish adaptive smoothing and marker extrapolation, FLARManager needs to calculate information about marker motion. this information is made available to application developers for their own use, and includes:
FLARMarker.velocity
FLARMarker.motionSpeed2D
FLARMarker.motionDirection2D
FLARMarker.rotationSpeedX/Y/Z
see the asdoc comments (and the FLARManager API Documentation, once i get a chance to update it) for information on these new properties.


variable-width marker border support
FLARToolkit's support for markers with border widths wider or thinner than 50% of the total marker width is now exposed to FLARManager. set via the patternToBorderRatio attribute of the <patterns> element in flarConfig.xml. the value is the percentage of the total marker width/height that the pattern consumes, so a pattern with 25% border and 75% pattern would require a value of "75".
FLARToolkit's support for variable-border width markers seems to max out around 80% / 20%.
unfortunately, FLARToolkit 2.5.1 no longer supports this feature. FLARToolkit 2.5.2 will support it, and FLARManager will target FTK 2.5.2 once it is released. the FLARManager_FTK_1_0_0 branch still supports this feature.


support for inverted markers
FLARManager can now recognize markers with white borders, instead of just black borders. set via FLARManager.inverted or via flarConfig.xml, as an attribute of the <flarManagerSettings> element.
thanks to jim alliban and lee brimelow for the idea, and the PixelBender shader that makes this possible.


under-the-hood improvements and changes
flarConfig.xml loading and parsing now lives in FLARManagerConfigLoader.as, cleaning up FLARManager.as a bit.
DrunkHistogramThresholdAdapter.as is now the default threshold adapter (shout out to matt reynolds for the suggestion). as such,

adaptiveThresholding, adaptiveThresholdingSpeed, and adaptiveThresholdingBias have been removed.

display mirroring now defaults to true.