Posted in
to do
on June 18th, 2009 by ericsoco –
25 Comments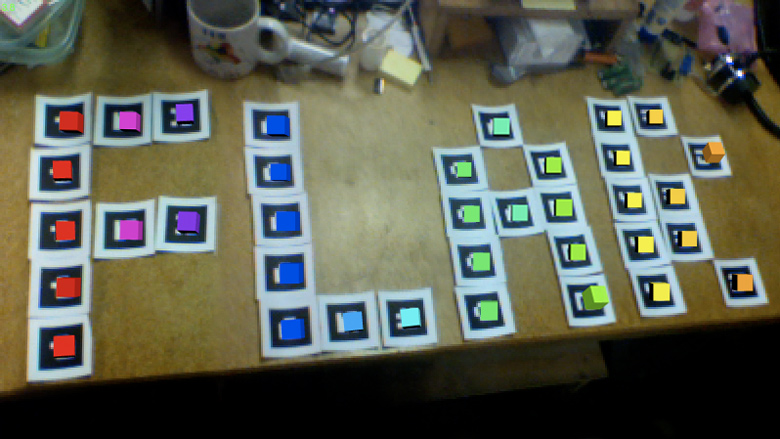 i'm pleased to announce the release of a new-and-improved version of FLARManager! this one has been a while in the works, due in part to general busy-ness, in part to my laptop threatening death, and in part to the fact that there are SO MANY NEW FEATURES.
download here:
http://words.transmote.com/wp/flarmanager/
(NOTE, this is now pointing to version 0.41, which is required for the new tutorials.)
quick description of FLARManager:
FLARManager is a small framework that makes building FLARToolkit applications easier. it also decouples the marker-tracking functionality from Papervision3D, and provides a more robust event-based system for managing marker addition, update, and removal. it supports detection and management of multiple patterns, and multiple markers of a given pattern.

here's a rundown on the most interesting new stuff:

[matrix-level smoothing]
FLARManager now applies smoothing to the matrix values reported by FLARToolkit for detected markers; this helps to clear up jitter in rotation, scaling, and position. developers can set the amount of smoothing, and easily implement their own smoothing algorithms.
[external configuration]
devs now have the option to specify many configuration settings via an xml file that does not require app recompilation. among the settable features are capture and display width/height, display mirroring, matrix smoothing, and pattern and camera param file paths.
[easier access to detected marker data]
FLARMarker instances, accessible via FLARMarkerEvents, now expose (x,y,z) location (via a Flash Player 10 Vector3D object), rotation on the x, y, and z axes, and the (x,y) coordinate of the marker's centerpoint. this opens the door to applications that use FLARToolkit to create new user interfaces and controllers, in addition to its ability to produce traditional augmented reality applications.
[documentation! (just a start...)]
i finally got around to generating ASDocs for FLARManager; this Javadoc-style documentation is similar in format to Adobe's Flex Language Reference. i still have a ways to go to make these docs more useful, but…it's a start. you can find the docs in the html_docs folder; just open index.html in a browser. i'll be putting them online in the near future.
[commercial license]
ARToolworks, the group managing the commercial license for FLARToolkit, will be offering a commercial license for FLARManager very shortly. we are just wrapping up logistics now, and i'll post more about this shortly; in the meantime, please contact me via the link at the right of the titlebar above for more information.
read more »